De Masi/Varoufakis vs. European Central Bank
De Masi and Varoufakis submit legal challenge to the ruling of the General Court of the European Union
May 9th, 2019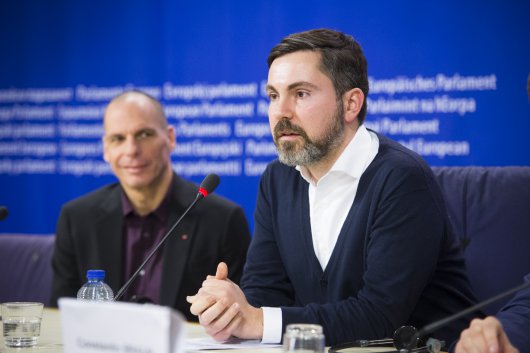 On April 30, the financial affairs spokesperson, vice-chair of the Left Party in the German parliament and former member of the European Parliament Fabio De Masi and the former Greek finance minister Yanis Varoufakis officially submitted a legal remedy to the General Court (EGC) ruling from March 12. The EGC had decided in favour of the ECB.
Fabio De Masi and Yanis Varoufakis are suing the ECB for not disclosing a legal opinion drafted by external counselors of the ECB on the question of whether the ECB exceeded its mandate, when it cut off Greek banks from the money supply by first stopping to grant credit and then freezing ELA loans, once the Greek government had decided to hold a referendum on the troika reforms in 2015.
Fabio De Masi comments the submission oft he legal remedy:
"Yanis Varoufakis and me officially appeal the ruling of the General Court, because it violates the jurisprudence of the European Court of Justice and the transparency requirements of EU insitutions. This is about whether or not the ECB is allowed to cut a member state off the money supply, because it refuses to cut wages and pensions and to privatize public property. Wage and pension policy is not part of the mandate of an unelected central bank but of democratically elected governemnts. Would the ECB be convinced of the rightfulness of cits actions, it would have disclosed the document right away. The justification of the General Court is not convincing. It states, that the ECB needs 'space to think', but transparency should not prevent the ECB from thinking. The European Court of Justice has been very strict on its criteria with respect to the non-disclosure policy of EU-Institutions and agencies. We therefore expect to have good chances for a revision of the ruling."
Background Information on the litigation:
Fabio De Masi had gained first knowledge of the legal opinion in a meeting with the ECB executive board in 2015, but was denied access to it ever since. The lawsuit was preceded by a request for freedom of information and a public campaign demanding the disclosure of the document. It was signed by over 30 000 supporters and numerous prominent people, among them well-known US-economists like James Galbraith & Jeffrey Sachs, the former social-democratic candidate for the German Presidency Gesine Schwan as well as Sahra Wagenknecht and the French presidential candidate Jean-Luc Melenchon.
The ruling of the EGC on the legal case T-798/17 from March 12, 2019, can be found here.
The submitted legal remedy with the reference number C-342/19 P on the ruling (T-798/17) can be downloaded here (German language).
More information can be found here:
Contact to Fabio De Masi for media inquiries:
Phone: +49 30 227 77012
Email: fabio.demasi@bundestag.de
Similar articles
Mar 10th, 2017

Mar 10th, 2017