"Lux Leaks-Trial" against Antoine Deltour, Edouard Perrin and Raphaël Halet
A press release of Fabio De Masi
Jun 28th, 2016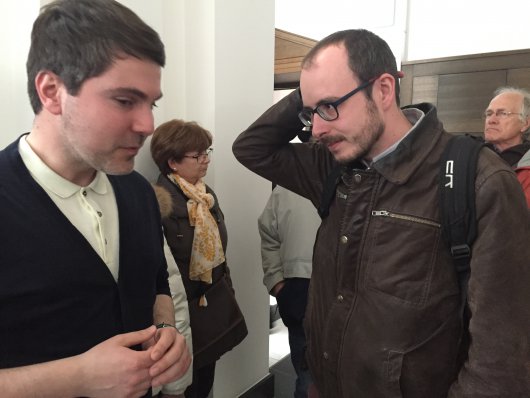 Member of European Parliament Fabio De Masi (DIE LINKE.) who had been witness for the defence of Anotoine Deltour, together with the Member of Luxemburg Parliament, David Wagner (Déi Lénk) will be present on Wednesday 29. June 15h in Luxemburg. There will take place the rendition of judgement against "LuxLeaks Whistleblower" Deltour, against another PriceWaterhouseCoopers (PwC) employee, Raphaël Halet, as well as against the journalist Edouard Perrin.

Following the pronouncement of the judgement Mr De Masi and Mr Wagner are available for interviews and statements. In case of interest, it is also possible to agree an appointed time beforehand. Please contact Mr De Masi's office for that (fabio.demasi@ep.europa.eu or telephone +32 228 45667)

Antoine Deltour is facing up to 18 months of jail as well as a fee up to one million Euro. PwC suggested a symbolic civil law agreement with a payment of 1 Euro as "sentence". However, the decisions of the judges are still open.

Fabio De Masi, member of the special committee on tax rulings (TAX2) and the EP-intergroup on Integrity, Transparency, Corruption and Organised crime (ITCO) comments ahead the rendition of judgement:
"Antoine is a hero who made public the legal and illegal tax deals of multinationals. Whistleblowers who serve the general public interest and risk their private life and careers must be protected. The same goes with the freedom of press. The trial of the Luxemburg prosecution against Deltour and the others is a scandal and will hopefully be "healed" by the decisions of the judges. However, the whole trial gives the people in the EU the impression of a biased rule of law."

De Masi concludes: "Unfortunately, the EU Commission keeps on being silent when it comes to real protection of whistleblowers despite the fact that Mr Juncker agreed with me in a TAXE hearing that the EU needs to act. Moreover, the majority in the European Parliament even hindered the future protection of whistleblowers even more by voting for a trade secret directive."

The Dutch colleague Dennis De Jong (MEP, also in the group of the GUE/NGL) is co-chair of the intergroup on Integrity, Transparency, Corruption and Organised crime (ITCO) and works currently on an initiative aiming at a EU law to protect whistleblowers.
Similar articles
Apr 25th, 2016

Sep 28th, 2015

Jun 21st, 2016