Daily Maverick: SA State Capture rears its head in German Bundestag
Press review about a parliamentary question from Die Linke party about German companies fingered in State Capture, particularly at the Passenger Rail Agency of South Africa
Jan 22nd, 2020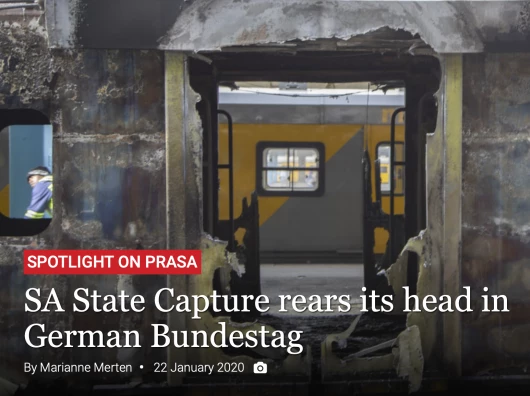 Daily Maverick: SA State Capture rears its head in German Bundestag
"A parliamentary question from Die Linke party about German companies fingered in State Capture, particularly at the Passenger Rail Agency of South Africa, showed the German federal justice ministry is still waiting for the South African authorities to make contact. But it may not quite play out like that amid vows to step up the pressure.
The official response to the parliamentary question in eight parts on German companies fingered in State Capture from Die Linke MPs Fabio De Masi, Jorg Cezanne and Klaus Ernst has dropped in the Bundestag, dated 2 January 2020.
In it, the German Federal Ministry of Justice and Consumer Protection says it was "aware of media reports alleging corruption by German companies" as part of State Capture in South Africa, but the federal government itself had "no further knowledge" of such — or direct knowledge of any prosecutions or convictions.
Nor had the German government received a request for mutual legal assistance, according to the federal justice ministry's parliamentary reply 19/16297.
However, State Capture had been raised in discussions with German companies represented in South Africa, and others. (...)
The official response has disappointed Die Linke MP Fabio De Masi.
"South Africa must bring to justice those who make its citizens suffer. This requires swift action of the South African government to request cross border assistance on prosecuting the management of Vossloh. The visit of Chancellor Angela Merkel in February is an important opportunity to discuss those matters," Masi told Daily Maverick in an emailed response.
"Germany has a legal obligation under international law to assist in prosecuting corruption committed in South Africa by companies headquartered in Germany. Germany has no corporate criminal law. Only people, not companies can be held to account. But the proceeds from corruption can be skimmed. Profits from corruption must be paid back to the people of South Africa instead of filling the pockets of shareholders."
The parliamentary question in the Bundestag is the second time South Africa's State Capture has been raised in another country's parliament."