Study scrutinises the links between auditors and tax havens
Press Release Member of the European Parliament Fabio De Masi (GUE/NGL) on The Big Four
Jul 5th, 2017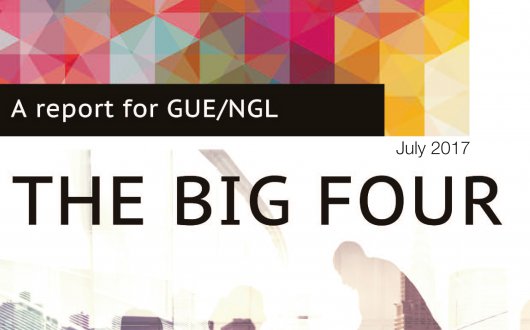 The Big Four - A Study of Opacity
A study of the United European Left parliamentary group (GUE/NGL) highlights the role of the Big Four accounting firms in facilitating tax avoidance globally and makes recommendations as to their regulation. Fabio De Masi (DIE LINKE.) commissioned the study together with colleagues from the United European Left (GUE/NGL) about the secretive workings of the Big Four accountancy firms (Deloitte, PwC, KPMG and EY - the 'Big Four') and their entanglement with tax heavens, offshore jurisdictions and their muddled corporate structure. Co-authored by Professor Richard Murphy (City University London) and Seila Naomi Stausholm (Copenhagen Business School), 'The Big Four – A study of Opacity' takes an in depth look at the size, scope and location of the activities of the Big Four.
Fabio De Masi (DIE LINKE.), Vice-Chair of the European Parliament's Inquiry Committee into Money Laundering, Tax Evasion and Tax Avoidance (PANA) comments on the study:
"The big four auditing firms are the doorstep brigade of offshore jurisdictions and tax havens. They are proportionally overrepresented in places like Luxembourg, Bermuda or the Cayman Islands. The auditing and tax consulting business have to be strictly separated and aiding tax evasion has to be sanctioned harshly, for example by the withdrawal of the business licence. Transparency over aggressive tax planning as envisaged by the EU Commission is not sufficient and an oath of disclosure to the patchy EU tax architecture.
The report shows that the Big Four have adopted a muddled corporate structure. This protects themselves and their clients from regulatory oversight and disguises the size of their operations and profits.
The study puts an end to the myth that the Big Four are just a network of independent firms. These companies therefore have to be seen for what they are: big, multinational corporations. This would simplify their regulation and it would be easier to hold them to account for their global actions."
You can download the study here
Note to editors:
The report is called 'The Big Four – A study of opacity'. This report was commissioned and funded by the GUE/NGL (European United Left/Nordic Green Left) MEPs who are members of the European Parliament's Committee of Inquiry into the Panama Papers – Fabio De Masi, Matt Carthy, Miguel Urbán, Patrick Le Hyaric, Miguel Viegas, Marina Albiol, Stelios Kouloglou and Takis Hadgigeorgiou. The report was written by Richard Murphy and Saila Naomi Stausholm.
Richard Murphy is Professor of Practice in International Political Economy at the City University, University of London. He is an UK chartered accountant, was a founder of the Tax Justice Network and is director of Tax Research UK. He substantially developed the international concept of country-by-country reporting (CBCR).
Saila Naomi Stausholm is a PhD candidate in international political economy at Copenhagen Business School, affiliated with the EU Horizon 2020 'Combating Fiscal Fraud and Empowering Regulators' Coffers project.