German-Turkish footballer Deniz Naki prosecuted – (promoting) peace is criminal
A press release of Fabio De Masi
Apr 7th, 2017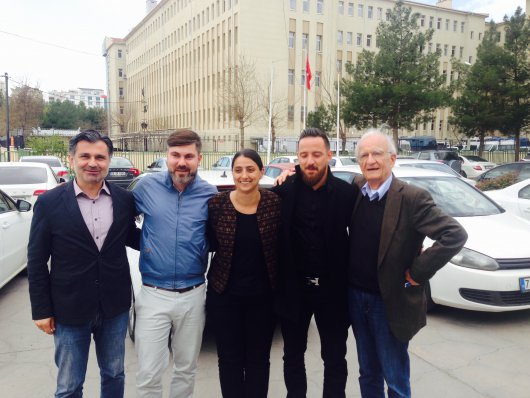 The German-Turkish footballer Deniz Naki - former player of FC St Pauli and European Champion with the German U19 youth national team - was given an 18-month and 22-day sentence in the Turkish city of Diyarbakır today, for alleged terror propaganda. Fabio De Masi, German member of the European Parliament for DIE LINKE., was present at Naki's trial together with the international law professor Norman Paech. Both had been invited by Naki and his lawyers. Speaking after the sentencing, De Masi comments:
"Today's decision is deplorable and absurd. The very same judge who handed down the 'not guilty' verdict last year in the same case of alleged terror propaganda has now found Naki guilty. Last time round, this judge underlined that everything Mr Naki had said falls under the 'freedom of speech'. The independence of the judiciary in Turkey is apparently not guaranteed anymore. This decision is intended to frighten people off from opening their mouths. Mr Naki has always denounced every form of violence. However, the wish for peace in Turkey is now apparently a criminal offence. Mr Naki now faces time in jail just by opening his mouth and mentioning peace in the next five years."
"Deniz Naki is a courageous role model – not just on the pitch. He stood trial in order to give a face and a voice to the thousands of invisible people that are suffering from harsh repression in Turkey. The solidarity of his former club FC St Pauli, of the St Pauli Fans and other football fans has been amazing. My party and I will continue to support Mr Naki and people like him in future. You'll never walk alone," De Masi concludes.